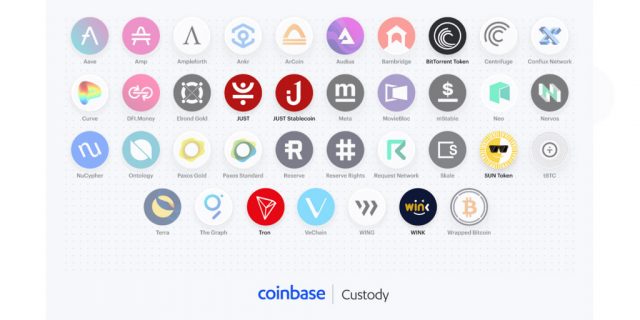 On October 17, 2020, Coinbase Custody announced that they will continue to explore the addition of custody support for new assets. Among the list of assets under Coinbase Custody's explore list, TRX and a number of other TRON-based tokens namely, BitTorrent Token (BTT), JUST (JST), JUST Stablecoin (USDJ), SUN Token (SUN) and WINK (WIN), made it to the list as well.
A full list of digital assets that Coinbase Custody is exploring is below.
Aave (AAVE), Amp (AMP), Ampleforth (AMPL), Ankr (ANKR), ArCoin (ArCoin), Audius (AUDS), Barnbridge (BOND), BitTorrent Token (BTT), Centrifuge (RAD), Conflux Network (CFX), Curve (CRV), DFI.Money (YFII), Elrond Gold (EGLD), JUST (JST), JUST Stablecoin (USDJ), Meta (MTA), MovieBloc (MBL), mStable (MUSD), Neo (NEO), Nervos (CKB), Nexus Mutual (NXM), NKN (NKN), NuCypher (NU), Ontology (ONT), Paxos Gold (PAXG), Paxos Standard (PAX), Reserve (RSV), Reserve Rights (RSR), Request Network (REQ), Skale (SKL), SUN Token (SUN), tBTC (TBTC), Terra (LUNA), The Graph (GRT), Tron (TRX), VeChain (VET), WING (WING), WINK (WIN), Wrapped Bitcoin (WBTC)
What is Coinbase Custody?
Before one gets too excited about TRX and other TRC tokens getting listed to Coinbase, please note that Coinbase Custody and Coinbase exchange are two different entities.
Coinbase Custody is a qualified custodian. It operates as a standalone, independently-capitalized business to Coinbase, Inc. Coinbase Custody is a fiduciary under NY State Banking Law. All digital assets are segregated and held in trust for the benefit of its clients.
Launched in 2018, Coinbase Custody offers clients access to the secure, institutional-grade offline storage solution that has been used by Coinbase's exchange business since 2012.
Coinbase Custody ≠ Coinbase exchange
It's important to note that assets supported by Coinbase Custody are not guaranteed to be listed on Coinbase trading platforms. Below are the original statement from Coinbase Custody:
Our decision to support any asset for custody requires significant technical and compliance review and may be subject to regulatory approval in some jurisdictions. We therefore cannot guarantee whether or when any above-listed asset will be available for Coinbase Custody in any jurisdiction. We will add custody support jurisdiction-by-jurisdiction, subject to applicable review and authorizations. The omission of assets from this publication does not disqualify any such asset from active review and potential custody support.
Coinbase Custody
Anything to be excited about for Tronics?
Since Coinbase Custody is not Coinbase exchange, is there nothing to be excited about for Tronics?
No, this is actually good news for Tronics. Coinbase Custody built a system that is secure, and reliable, but also has the features and functionality that most traders and financial institutions are looking for. Therefore, if TRX and other TRON-based tokens made it to Coinbase Custody, it is highly likely that there are demands from traders and financial institutions.
One should be aware that there are hundreds of thousands of tokens that are available on Ethereum and TRON blockchain alone, let alone the entire blockchain space. Out of the huge number of tokens in the world, 6 TRON-based tokens stood out and made it to Coinbase Custody's watchlist. Therefore, this is actually a good first step in getting the world to pay attention to TRON. Just like the famous saying of Neil Armstrong, "that's one small step for man, one giant leap for mankind."