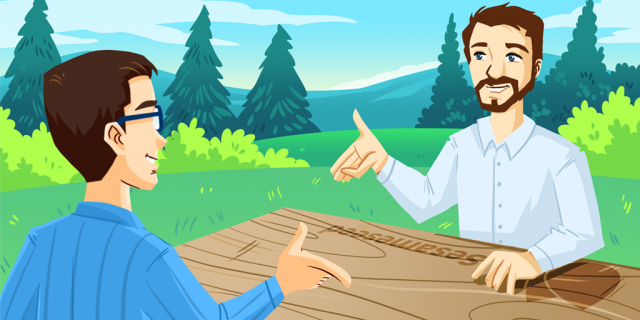 Hi Juliun, nice to meet you, I'm Jason from TronLive. Can you give us a brief introduction of yourself and let us know your role in Sesameseed?
My name is Juliun, I'm based in Los Angeles, Ca, and have been in cryptocurrency since 2010. Myself and Kris Founded Sesameseed more out of necessity than anything else. We saw the upcoming SR process as outlined by tron, Thought this was a really interesting democratic opportunity for all investors to participate and started searching for communities that were looking to support the greater Tron community.
We didn't find one, so we thought let's start one! A community SR that we would want to Join, Transparent, Giving back, really lead by the greater community.
Today I act as Chairman of Sesameseed, which will be an elected position in the future, This role is really a spokesman for the community.
That's great. Sesameseed is a really interesting name. Do you mind to share with us how this name derived?
The name Sesameseed drew inspiration from a television series called " Silicon Valley" The show often references decentralization and blockchain subject matter. In one scene, the brilliant billionaire venture capitalist Peter Gregory comes up with a genius plan to profit off of a future crop of sesame seeds citing an impending shortage that nobody will likely be aware of.
Our take on the name means something more. A seed is something small with enormous potential. A seed is resilient and will flourish with the ideal growing conditions. we wanted these traits to be a metaphor for what we want sesamseed to become.
I see, that's good to know. Let's talk more about Sesameseed. Let us know what is this all about.
Well, at the heart of it, sesame seed is a new way of thinking, a paradigm if you will. Sesameseed at its core is a network of passionate dedicated Tron enthusiasts that collaborate and share their collective skills and knowledge for a single purpose: that purpose is "the vision of sesame seed".
Let's talk about that vision:
Sesame seed set out to change the status quo, we wanted to include the community, the everyday users, as much as possible. we wanted to not only represent the community but to make the community part of us. we recognized the wealth of talent and creative intelligent minds that are out there waiting for their voices to be heard and we recognized that the super representative elections were the perfect opportunity to assemble these vast untapped resources. Sesame seed has already delivered on these ideals. currently, half of our core team was handpicked from a community of Tron believers. These team members have been crucial to our operation and are working tirelessly to share the sesame seed vision.
It is for these reasons that sesame seed decided to deliver such a generous reward percentage. we are the community, we are the users of Tron and we shall, therefore, reward as much as possible our most valuable assets; our members.
Thanks for the details. There must be a lot of preparation work for SR, can you let us know what your team has done so far?
Again, This idea started with Kris and I outlining an Ideal community candidate, we aren't UI/UX designers, we aren't Marketing experts or Developers, We asked the community to contribute to building momentum. A majority of the leadership of Sesameseed is from the community, individuals I've never met, based globally.
That being said, we are a well-organized group.
Tech Team: We are Operating our own Hardware (servers) in 4 Countries, Negotiating Bandwidth Contracts to remain efficient, Working with Other communities on technical difficulties all SR's are Facing. Developing our own system for tracking votes, via witness nodes, developing easier methods to participate, Designing a rewards program around a tokenized Sesameseed
Marketing Team: We Have a new website, entirely designed and developed in-house. An Amazing Marketing Team Creating Content, Video's, Logo's Weekly updates.
Admin Team: Meeting with attorney's, writing Contracts for employment, A handbook, Finalizing Banking Information, Navigating the NonProfit Process, writing the bylaws for our board. Writing our Manifesto, Constitution, Scripts, coordinating meetups and AMA's
Research Team: Working on outreach with Dapp Developers on the tron network, to develop partnerships, find future projects for the community to invest in.
Awesome. Can you briefly describe how you will allocate your TRON rewards if you are being selected as SR?
Very Simply, 80-10-10
80 % directly back to the community that voted for us in proportion to votes cast.
10% Withheld by Sesameseed for Community voting (can be used for dapp development, etc.)
10% Withheld by Sesameseed for Operating expenses. (Any remaining funds will be assessed at the end of the year)
Sesameseed is about giving back to the community. How do your voters get back the TRX that they have voted for? Can you briefly describe the process?
Certainly, So 80% off all TRX awarded to the node will be given back to the community in the form of "sesameseeds" Tron based tokens, issued 1 to 1 to tron. These Tokens will be deposited into all public addresses that vote for Sesameseed registered on our website.
As these "seeds" are issued weekly, they can be exchanged by the community member at any time for TRX.
That's good to know. So, can the community get an idea of how much rewards they will be getting back from Sesameseed given a TRX amount? What factors are there to consider?
It's Hard to tell, you need to consider a few factors. How much TRX is actually produced by the node, How many total votes are cast during a given week, how many votes you cast for Sesameseed.
That being said you can take a look on our website where we have a very neat calculator to give you a good idea of the kind of reward you will receive based on total votes cast for Sesameseed.
Alright. This will be really useful for the community. How else do you think Sesameseed can help to aid the growth of TRON?
Sesameseed is reserving 10% of block rewards for initiatives to be voted on by our members. Sesameseed members will be able to invest funds for dapp development or whatever they, the users of the Tron network, see as most beneficial to the Tron network.
The growth of Tron depends ultimately on one thing: Use of the network. As a super representative that is exclusively focused on inclusivity of the users of Tron, this will bode well for the engagement, use and success of the Tron Platform
Great. So, in general, let us know why Tronics should support Sesameseed?
…It's simple really… Sesameseed is growing to be the largest community of Tron network users, dedicated users, involved users, users with a voice in the network in which they invest and in which they participate. Tron is, after all, for the people.
Supporting Sesameseed is supporting the very people that are necessary to make Tron thrive
Thanks, Juliun. Is there anything you want to tell the community before we end this interview?
Thank you, This is not my project, It truly is a community project that I am thankful for being a part of.