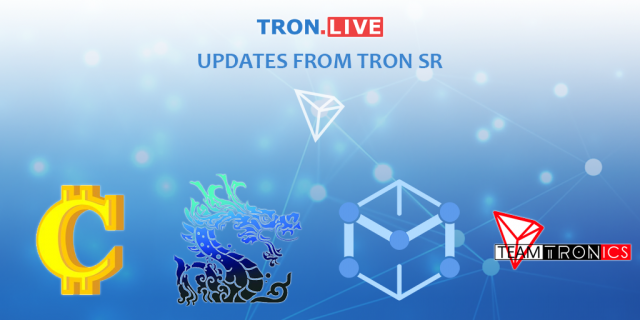 TronLive recently gave access to TRON SR and SR candidates TronLive official SR account to manage their profile. While some of the SRs are still setting up their profile, let us give the community an update on those SR which have updated their profile.
Feel free to check out https://tron.live/tronsr/ to see up-to-date announcement from TRON SR.
CCC is not one of 27 TRON SR yet, they are currently offering 100% rewards back to community until they reached 100,100,100 votes. After that, they will allocate 50% rewards to voters every 24 hours as TRX, 25% to the United Nations Humanitarian aid programs, and 20–25% to TRON developers who would like and need help funding their DApp projects.
SkyPeople, one of the TRON SR, is still doing 100% rewards back to the community for the rest of July. They have also updated their regular 35% rewards back to voters and increased it to 80%. Furthermore, they will also airdrop 2% of their SkyPeople token when the token is out. The SkyPeople token will be used in their blockchain game. The exact date for the extra 2% airdrop has not been mentioned so do check back on our TRON SR page for updates from SR.
Measurable Data Token (MDT) is also not one of 27 TRON SR yet, they are currently having their MDT's MyMDT closed beta testing which is a task-based reward wallet to bring more forces to TRON X MDT. MDT stressed that your data should be making money for you, they are building a strong decentralized data exchange ecosystem connecting users, data providers, and data buyers together and put our data to good use.
Team Tronics, another TRON SR elected by the community will continue to offer 100% of all rewards daily for the rest of July. After that, they will offer 85% of all rewards airdropped daily to voters. They are working on a Tronics University that pays people to learn. They will also introduce a point system which will grant you membership which will help you further.
Remember to check out TRON SR page often as the rest of SR will update their profile soon.