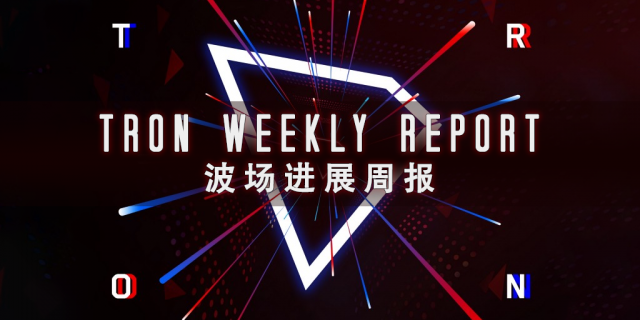 In the past week, the TRON project continued to run smoothly. Here is this week's update for all of our supporters, believers and followers.
Technical Development
Work Completed:
1.[ Architecture] Optimized broadcasting speed.
2.[Smart Contract] Determined detailed development plan for side chain
Work in Progress:
1.[Architecture] Test deferred transaction.
2.[Wallet] Develop anonymous transaction.
3.[Smart Contract] Test the new version of solidity compiler
BitTorrent Update
1. BTT is now listed on 41 exchanges including Binance, OKEx, Bittrex International, Huobi, HitBTC, Bithumb, Bitfinex, Upbit, KuCoin, Gate.io, Cointiger, Bitbn, TRX Market, Coinspot, Sistemkoin, Exrates, Satowallet, Coinexmarket, MBAEX, Coinex, BitForex, Changelly, Cross Exchange, DigiFinex, Bitpie, BikiCoin, SWFT Blockchain, Koineks, CoinAll, 55.com, BitMax, BitMart, ExShell, AnyBit, ChangeHero, AltCoinTrader, Cachierest, CHAOEX, SPICEX, Coinsuper, BitAsset.
2. You can now pay for Windscribe VPN with BTT. Another step toward privacy and a boundary-free internet! Check them out at https://windscribe.com and browse the web privately as it was meant to be!
3. Looking for new challenges, work on cutting-edge technology and be at the forefront of unique content experience? Come join us!
Software Engineer in Test bit.ly/BitTorrentSDET
DevOps Engineer bit.ly/BitTorrentDevOps
Sr. Software Engineer bit.ly/BitTorrentSrSoftwareEngineer
Global Community
1. TRON has officially acquired CoinPlay, world's largest blockchain application store. CoinPlay brings together a wide range of blockchain apps and DApps, providing one-click downloads of a variety of blockchain software and games, as well as practical guides, browser navigation, ratings, and indices of major currencies.
2. BitTorrent began offering early access to its new BitTorrent Live streaming service, which enables consumers to create live content and connect on mobile devices to people who share common interests. BitTorrent Live has started user testing on the live streaming service it provides.
3. On March 29th, Decentralized Exchange (DEX) TRXMarket from the TRON Community ranked first on DApp Review by 24-hour trading volume. The trading volume in the past 24 hours was 342,357,365 TRX, and the number of transactions in the recent 24 hours was 12,689;
4. On March 29th, according to Tronscan, a total of 3,306,472 transactions were made on TRON's network in the previous day, nearly five times that of Ethereum which had 625,948.
5. TRON's founder Justin Sun now has more than 5 million followers on Facebook, representing the growing attention among TRON's global community. We welcome more community members to continue following us to get the latest news on USDT-TRON;
6. On April Fool's Day, TRON held a prize campaign themed "Vitalik visits Justin's office" with 500 Jingdong gift cards, Xiaomi smart watches, Xiaomi AI speaker and other prizes awaiting. Please stay tuned with TRON to learn about more campaigns;
7. On April 3, TRON's block height reached 8,041,115, exceeding 8 million. With the continuous development of the TRON network, the community ecosystem will be improved to nearly perfect and more and more smart contract developers will use the TVM. The ever growing ecosystem is accompanied by higher trading volume and further implementation of blockchain technology.
Developer Community
1. TronGrid – Running performance and load tests. Improved transaction query performance by 100 times. The MVP is ready for external testing. Improving performance monitoring and back-up system.
2. BTFS – Writing v1 white paper. Performing IPFS source code and mechanics knowledge sharing. Testing IPFS integration with TRON DApps;
3. Atlas Exchange – Proposed Atlas Ledger timeout fix. Confirmed ledger transaction logging. Tested & merged the improved deposit flow;
4. USDT-TRON – Updated the program to include create smart contract function, exposed APIs, and CLI. Exposing port to obtain TRC20 balance of all accounts. Successfully tested AirDrop on test network.
Team and Partners
1.Chinese media outlet Fenghuang Network published an article titled "41 New Students Begin Their Study at Hupan University; TRON's Founder Justin Sun (a member of the 1st class) Is Among the Second Group of Donors"; Justin says, " It is my hope that I will keep striving forward, growing with Hupan, and making Hupan even better."
2. Chinese media outlet Jinse Finance published an article titled "Vitalik Buterin Took the Initiative: the Battle with Justin Sun Escalated Once More". Ethereum's founder Vitalik posted on Twitter a photo of him with Justin in the background poster along with the words "Toward a brighter tomorrow". Justin later on simply replied "love you". It is hard to say who won this time. However, data wise, TRON's recent single-day transactions were over 5 times that of Ethereum, 3,066,472 vs. 625,948;
3. Chinese media Jinse Finance wrote in an article, "TronLink Wallet Officially Announced Its Strategic Cooperation with TRXMarket". The two will cooperate in-depth in products, market, community, etc., co-building the TRON ecosystem. TronLink is a decentralized wallet with the largest number of users in the TRON ecosystem, and the only wallet that is available on both PC and mobile. The cooperation between the two will give play to their respective advantages and improve the safety of the wallet and the TRON ecosystem;
4. Chinese media outlet Jinse Finance covered the news that TRXMarket was included by CryptoCompare in its statistics. Established in 2014, CryptoCompare is a cryptocurrency data provider that provides real-time, high-quality, and reliable market and price information on 5,300 coins and 240,000 trading pairs to institutional and individual investors;
5. Chinese media outlet Jinse Finance covered the news that TRXMarket was included by Coinhills. Coinhills provides Bitcoin enthusiasts with accurate and comprehensive Bitcoin indices and information on a simple and clear user interface. TRXMarket is the world's first Decentralized Exchange (DEX) based on the TRON ecosystem, with zero transaction fees.
Market Transactions
1. Well-known digital asset trading platform COINSUPER and Korea's well-known trading platform Coinone listed BitTorrent (BTT);
2. Korea's well-known trading platform Coinone and well-known digital asset exchange ABCC listed TRON (TRX);
3. Well-known digital asset storage platform Huobi Wallet, well-known digital asset platform BigOne, well-known digital asset platform COINTIGER, well-known digital asset trading platform Bit-Z, well-known digital financial exchange ExShell and well-known exchange BTEX announced supports for USDT-TRON conversion.