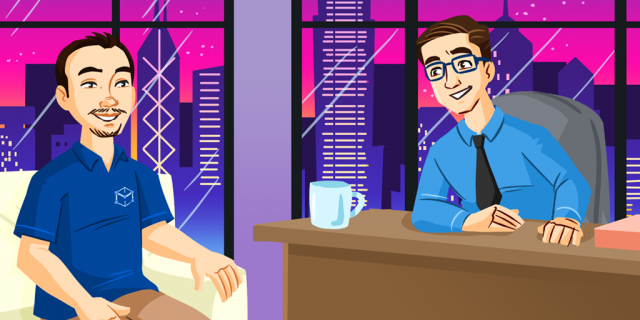 Hi Heatherm, I'm Jason from TronLive, nice to meet you. Can you give a brief introduction of yourself and let us know more about you?
Hello everyone, my name is Heatherm Huang, co-founder of Measurable Data Token. I am a serial entrepreneur, I co-founded MailTime Email Messenger that incubated by Y Combinator with more than 5 million users and named as one of the Best of 2015 app on AppStore by Apple. Backed to 2011, I also co-founded the first "Push-to-Talk" mobile messaging app called TalkBox Voice Messenger, with more than 13 million users, that became the most popular social app in China and Southeast Asia back in early 2011.
That sounds amazing. Measurable Data Token (MDT) stressed that our data has value. Can you let us know what concept is this?
Measurable Data Token measures the value of each anonymous data point contributed by users. For example, when you made an online purchase from an e-commerce website, book a hotel room or flight ticket; or took an uber ride, made an In-App Purchase from a popular mobile game like Pokemon Go, you will get an email confirmation receipt from the merchants. When we have access to a large amount of email data, we can aggregate those purchasing data and generate powerful and actionable consumer insights for investors and merchants. When a data buyer paid for a consumer insight report with measurable data token, the users will get a reward for the portion of valuable anonymous data points contributed.
That's interesting. MDT also treats privacy as a priority like TRON. Can you let the community know things some people may overlook on privacy when we are using the web?
There's an Internet saying that says "If you are not paying for a product, you are not the customer, you are the product being sold." Today, there are a lot of free apps and free services available on the internet provided by tech giants and big data companies, but by using them, you are compromising your data and privacy as a trade-off. And those companies also have a 100-page privacy policy and terms of service to make sure they are collecting and selling your data legally. MDT is born to solve the problem, users will get back the control of your data.
Yes, this is something users need to be aware of. Anyway, why did MDT decide to join TRON SR?
As a decentralized data exchange ecosystem which rewards users for sharing anonymous big data, MDT believes that a self-governed community is a future for most blockchains. We are happy to support one of the early adopters of this innovative way for self-governance like TRON. Running for TRON SR election is not just a campaign. It's more of joining a movement to show our support for Dpos, to root for the core value of blockchain, which is consensus, equality, transparency and democracy.
Ok. Let's talk about one of your popular email messaging app MailTime. How does this work?
MailTime is an Email Messenger that makes emails as quick and easy as text messaging. You can deal with your daily conversational email like chatting with your friends on whatsapp or wechat. The MailTime app was named as Best of 2015 on the AppStore by Apple and incubated by the most famous startup accelerator Y Combinator, as well as founder of Gmail.
MailTime is running on MDT ecosystem. Will you have any decentralized apps running on TRON network in the future?
MailTime and its big data product Measurable AI will be the first adopters of MDT Ecosystem, since TRON is compatible with DApps on Ethereum, we are currently working on the integrations with TRON, that we will soon or later extend our DApps on TRON. We will also incubate new data DApps for MDT on TRON.
That's good to know. What can MDT do specifically to help the growth of TRON, can you let us know your plan?
On Developer resources: We will keep developing and incubating more big data related Dapps and products for TRON and MDT to attract more developer resources.
On Marketing: we are already and will still be doing regular offline events and live-streaming events to educate TRON network and MDT.
On Influential Network: We have a solid network in both blockchain investors and traditional VCs with over 10 years of startup experience. And we'll have them as backup for the future ecosystem growth for both TRON and MDT.
On User acquisition: MDT ecosystem's first use case MailTime already owns over 5 million users, which will later bring good conversion for both TRON and MDT
Wow, looks like you have all these nicely planned out. Do you have any future activities specifically to promote this TRON SR event and let more user know about MDT?
We host a series of MDT Talks events in different cities around the globe, in each MDT Talks event, we include TRON SR election campaign as a very important part of the event. We already finished 4 MDT Talks events in May, and will have 4 more events in the coming weeks, including Hong Kong, Shanghai and San Francisco.
Great, I'm sure the comunity members will be looking forward to it. In general, why do you think Tronics should support your team?
By support MDT running for TRON SR, you are supporting a team with a track record that built successfully award-winning apps with tens of millions of users. Big data is also one of most important and fundamental use case for blockchain, MDT team have the confidence to become a very important part of TRON community.
If MDT successfully elected as a TRON SR, MDT will use all the earnings on TRON related big data product and ecosystem development.
Alright. So, before we end this interview, is there anything you want to share with the community?
Please download and try the MailTime App and please vote MDT for TRON SR!
Thank you very much for your time, Heatherm. We wish you all the best in TRON SR Election.
Thank you, thank you so much. Buh-bye.
Bye!