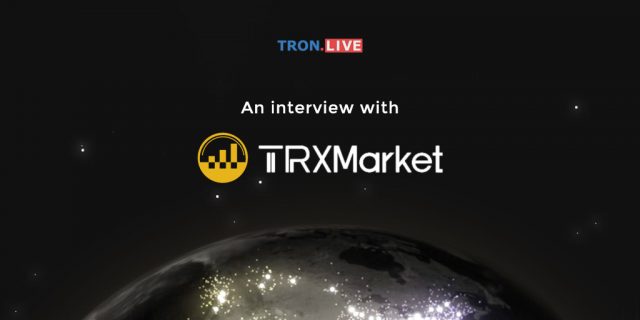 On April 15, TronLive had an exclusive interview with TRXMarket and we talked about the operations of TRXMarket and its future plan. TRXMarket was also praised by TRON's CEO, Justin Sun, for offering a 0-fees exchange to the community. Check the interview below to learn more about TRXMarket.
---
TronLive Can you briefly let the audience know about your team, where are you based, and your company's vision?
TRXMarket is a streamlined and capable team. We believed in team energy and efficiency. Although our team has less than 30 employees currently, we managed to build a crypto exchange with all the core functions. At present, we are mainly made up of team members from all over the world. With the continuous development of our business, our team is also expanding steadily.
TRXMarket is currently a solid exchange, and doing a good job is just our first step. Our ultimate vision is to be the largest asset-flowing platform in the blockchain, providing users with a rich variety of assets trading and financial derivatives services. This may be the biggest business in the blockchain sector in the next 10 years, and we are working hard for this goal.
TronLive: There are a lot of crypto exchanges in the market. Can you let us know some of the unique features that TRXMarket will offer?
Let me talk about some of the biggest differences of TRXMarket when compared to other exchanges. We may be the only one exchange in the world that offers trading without a fee. The user will not need to pay for transaction fees when trading with TRXMarket. Moreover, TRXMarket will also not charge any token listing fees. Token owners may contact us to learn more about this.
TronLive: Some people are curious about TRXMarket's operation. The community is happy about TRXMarket's 0-fees structure but would also like to know how do you plan on maintaining the project with 0 trading fee and 0 listing fee?
We believed that liquidity itself is valuable. When liquidity reaches a certain scale, it can do a lot of derivative businesses that require liquidity, and these businesses are profitable. For example, if the liquidity is large enough, we can provide asset exchange services with third-party companies, which can be chargeable.
TronLive: How do one go about listing a token on TRXMarket? Kindly let us know the requirements and the process flow.
At present, user can submit the token they wished to be listed by filling out the "token listing" form on our website. After the form is completed, we will get in touch with the project party to discuss about the token. Of course, we understand that the current process of token listing is still somewhat cumbersome and the degree of automation is relatively low. We will further optimize the token listing process in the future to make it more convenient for the users. Please take note of our official announcement for any updates.
TronLive: TRXMarket recently launched LaunchBase IEO platform and promised to let any TRON-based token get listed on LaunchBase for free. How do you plan on stopping scam tokens on here?
TRXMarkett is very cautious about the LaunchBase project. Before we work with any project, we will communicate with the project team thoroughly to understand the team's background, investment situation and product evolution route until we are convinced it is ready for our users. Therefore, projects that will be listing on LaunchBase will not be too frequent, we will only introduce good projects to our users after careful selection.
TronLive: Lastly, some of the non-supporters called TRXMarket's LaunchBase a copy of Binance's LaunchPad. Can you let us know your opinion on this and let us know what advantages can TRXMarket LaunchBase offer?
Binance's LaunchPad is indeed a very innovative model. LaunchPad had made a big impact on the entire industry after its launch. For TRXMarket, LaunchBase is still at a learning stage. However, I am confident to tell you that one of our biggest advantages is we have a deeper understanding of the TRON ecosystem. I believed that we will be more professional in the screening of TRON ecological projects to bring excellent projects to the community!