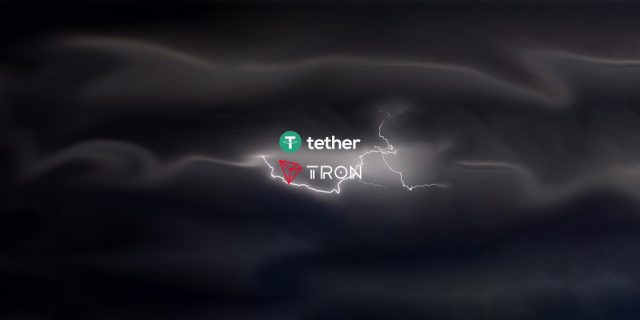 On March 5, TRON announced its partnership with Tether (the parent company of USDT), and the latter issued a TRC20 version of USDT on the TRON network.
With a trading volume more than EOS and ETH combined, TRON stood out from multiple public chains as the most-praised blockchain project. Yet TRON never stops exploring other possibilities, it has decided to tackle the field of stablecoin and bridge the two worlds of DApps and stablecoins.
Compared to the current USDT-Omni, the TRC-20 version of USDT has several advantages:
The Omni chain charges transaction fees that can be as high as $15 during peak hours. Sometimes, transaction fees will even affect the transfer process and result in a transaction rollback. On the contrary, transferring on USDT-TRON is completely free with zero transaction fees, which means there won't be any rollback resulted from transaction fees.
USDT-Omni takes at least 15 minutes to complete a transfer, while USDT-TRON is able to process an order within seconds.
Flexibility wise, USDT-Omni can only be used for transferring a payment, while USDT-TRON is an operating system with smart contract embedded, making it easier for users to write code and scale the system.
USDT-Omni doesn't offer any bonus. USDT-TRON has an early adopter's incentive program, meaning that users will be able to collect interest during the 100-days campaign.
What is USDT-TRON able to achieve?
From TRON's perspective, a TRC-20 version of USDT offers a fiat gateway that lowers the threshold for new users and improves the user experience. Moreover, the introduction of USDT will boost liquidity in TRON, and its partnership with Tether will enhance user confidence. If users are able to exchange their asset to US dollars with ease when needed, it will keep their assets safer and more stable.
From Tether's perspective, partnering with TRON enhances USDT's position in the cryptocurrency world. With more stablecoins entering the market and valuable market shares taken up by major institutions such as Facebook and Morgan Chase, Tether faces unparalleled pressure. TRON, on the other hand, is an industry giant in the making. After acquiring BitTorrent, TRON has worked with Binance and issued BTT which was sold out only four minutes after the sale opened. For Tether, TRON is the ideal partner that will help USDT grow and take up more market shares.
So far, public chains and stablecoin are still an untapped market. The cooperation between TRON and Tether will create a win-win situation and may even catalyze another round of bull market. Meanwhile, stablecoin is the lifeblood of decentralized exchanges, and USDT-TRON will be applied to all the decentralized exchanges on TRON network, providing safe trading pairs for them.
TRON also creates liquidity to encourage more users to participate in the token economy. As the pioneer of the industry, TRON never stops marching forward. This partnership with USDT will bring different parts of the blockchain industry together and offer better and more efficient services to businesses and institutional investors.