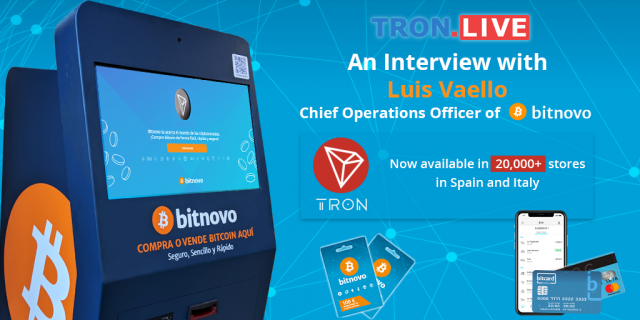 TRON (TRX) can now be purchased at over 20,000 stores in Spain and Italy through Bitnovo. TronLive had a chance to interview the Chief Operations Officer of Bitnovo to find out why they have added TRX and how can Tronics use their service to purchase TRX.
TronLive: Luis, can you briefly let us know about yourself, what you do at Bitnovo and tell us more about Bitnovo.
I am Luis Vaello, Chief Operations Officer at Bitnovo. Bitnovo is a Spanish platform with the mission of providing an easy access to cryptocurrencies to everybody. We found that it was very difficult to purchase cryptocurrency and we created Bitnovo with the idea of purchasing crypto with debit or credit card in only 2 steps from any place in the world. We realized that there was still a barrier for many people and decided to take crypto to your closest local store. We started vouchers and gift cards in 2017 and we are already in 2 countries (Spain and Italy), over 20,000 stores and premium retailers such as Fnac, Carrefour, and Game or online platforms such as Sixth Continent. We will soon be expanding our gift cards into other European countries like France and Portugal. We also provide ATMs where people can purchase TRX with Euros, our prepaid debit cards can also convert Bitcoin and Dash, and soon-to-be-added TRX back to Euros instantly.
TronLive: Bitnovo has recently added TRX so people in Spain can easily buy TRX from Bitnovo. Can you let us know why have you added TRX to your service?
We added TRON TRX when it was still an ERC20 token because we had a huge demand from our users, not only from Spain but worldwide. Many users are still purchasing bitcoin with their credit card, then send it to an exchange and get TRX. We made a simple way to purchase TRX straight away to your own and favorite wallet. We really like the whole vision of a decentralized internet that TRON provides. TRON is not just a promise, it is launched on its own blockchain, full working and very fast. We really believe that TRON is becoming a great project. We think it will become a major platform for DAPPS by allowing Javascript language for developers.
TronLive: Can you briefly describe how can people buy TRX from your service?
Users access bitnovo.com and choose Buy cryptocurrencies, then choose TRX, fill in their wallet, email and telephone number. Then, choose your favorite payment method and you're done! If they want to redeem a gift card or voucher, they can download our app for iOS and Android, fill in the code, choose TRX, fill in their wallet and you're done! Purchasing crypto through our gift cards and vouchers is a total breeze… It is absolutely simple and fast.
TronLive: How long does it take for the entire purchasing of TRX from Bitnovo? What does the user have to look out for?
The entire purchasing process for TRX can take less than minutes through the website and instantly with the Gift Cards, vouchers and our ATMs. Purchasing by card at bitnovo.com will require a small verification through our app. Once the order is verified, TRX will be sent to the users wallet.
TronLive: Can you let us know your 1-year-plan of expanding your services so more TRON supporters can easily buy TRX from you?
In the following year, we will be expanding our services to many other european countries including France, Portugal, UK and Romania. We will then provide over 200,000 retailers for users to purchase TRX with cash in less than 5 minutes walking distance from their house! In 2019, we will launch in other territories including South America, the Middle East and Asia. Any shop anywhere in the world can start selling TRX through Bitnovo services!
We will also add TRX to work with our prepaid debit card so that users can instantly convert TRX to fiat and spend it anywhere.
TronLive: Thank you for your time, Luis. Thank you Bitnovo for bringing TRON to more users in Spain and Italy. We look forward to seeing your services expanding throughout the world in the future!