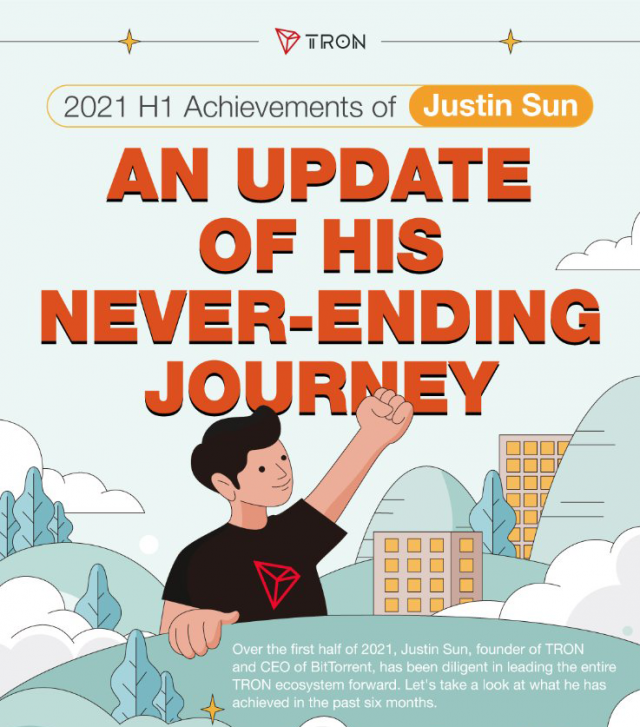 Over the first half of 2021, Justin Sun, the founder of TRON and CEO of BitTorrent, has been diligent in leading the entire TRON ecosystem forward. Below is a quick update of his never-ending journey.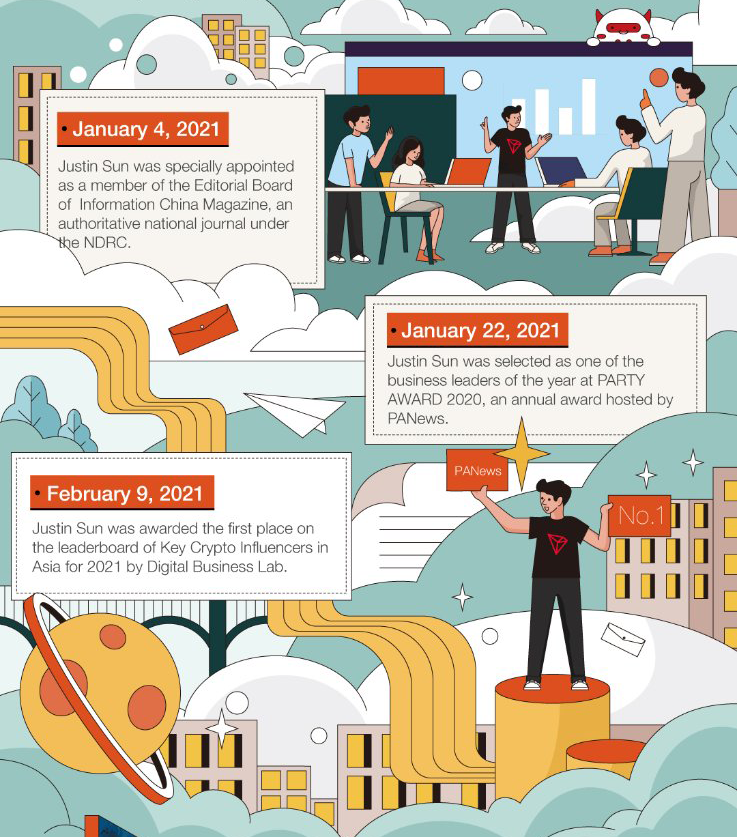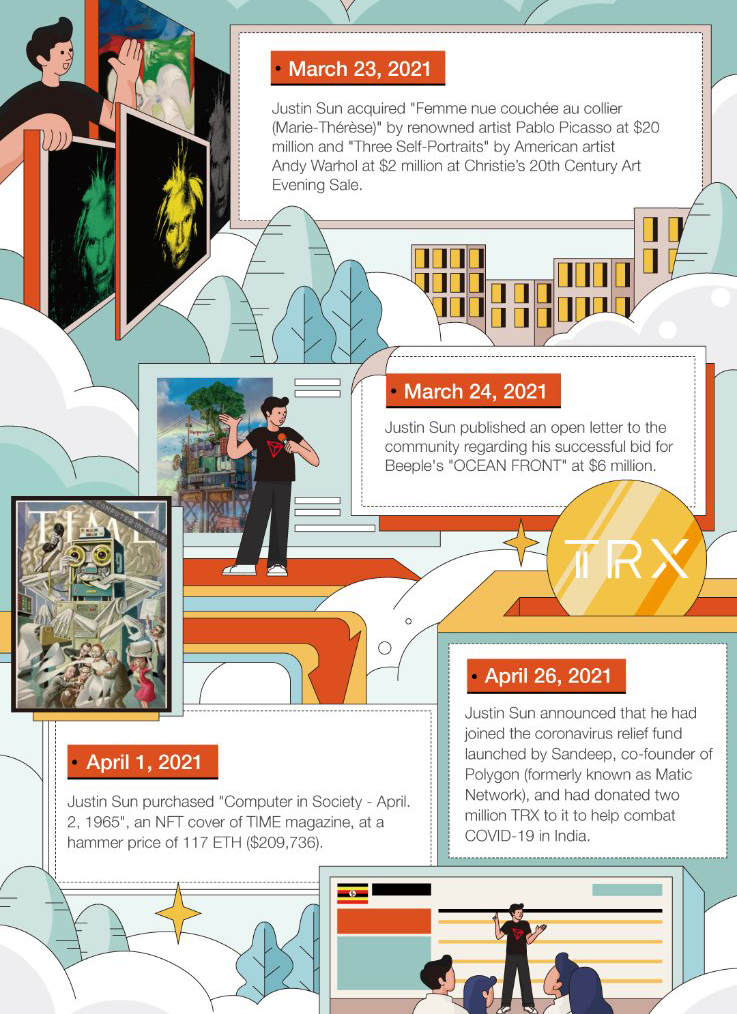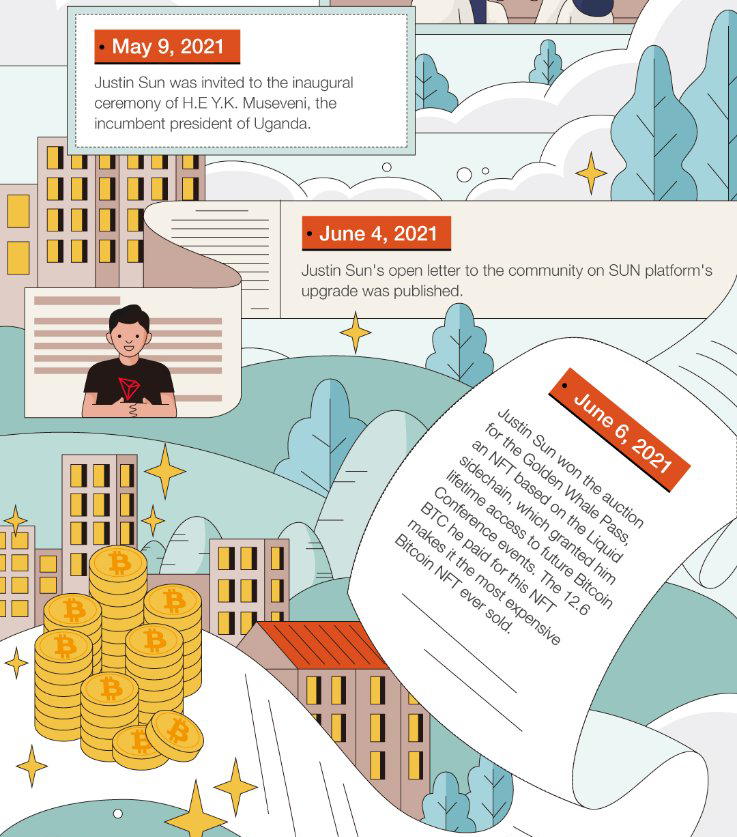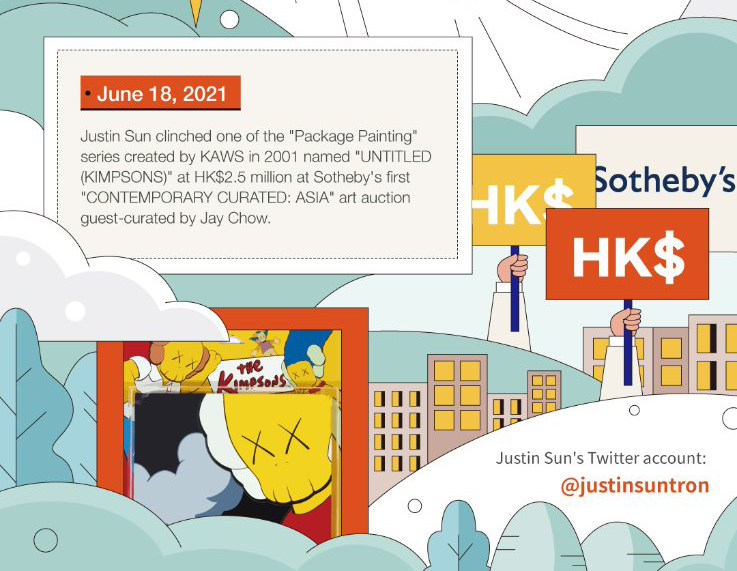 Below is a textual representation of the essential information conveyed by the images above.
January 4, 2021
Justin Sun was specially appointed as a member of the Editorial Board of Information China Magazine, an authoritative national journal under the National Development and Reform Commission (NDRC).
January 22, 2021
Justin Sun was selected as one of the business leaders of the year at PARTY AWARD 2020, an annual award hosted by PANews.
February 9, 2021
Justin Sun was awarded the first place on the leaderboard of Key Crypto Influencers in Asia for 2021 by Digital Business Lab.
March 23, 2021
Justin Sun acquired "Femme nue couchée au collier (Marie-Therese)" by renowned artist Pablo Picasso at $20 million and "Three Self-Portraits" by American artist Andy Warhol at $2 million at Christie's 20th Century Art Evening Sale.
March 24, 2021
Justin Sun published an open letter to the community regarding his successful bid for Beeple's "OCEAN FRONT" at $6 million.
April 1, 2021
Justin Sun purchased "Computer in Society – April. 2, 1965", an NFT cover of TIME magazine, at a hammer price of 117 ETH ($209,736).
April 26, 2021
Justin Sun announced that he had joined the coronavirus relief fund launched by Sandeep, co-founder of Polygon (formerly known as Matic Network), and had donated two million TRX to it to help combat COVID-19 in India.
May 9, 2021
Justin Sun was invited to the inaugural ceremony of H.E Y.K. Museveni, the incumbent president of Uganda.
June 4, 2021
Justin Sun's open letter to the community on SUN platform's upgrade was published.
June 6, 2021
Justin Sun won the auction for the Golden Whale Pass, an NFT based on the Liquid sidechain, which granted him lifetime access to future Bitcoin Conference events. The 12.6 BTC he paid for this NFT makes it the most expensive Bitcoin NFT ever sold.
June 18, 2021
Justin Sun clinched one of the "Package Painting" series created by KAWS in 2001 named "UNTITLED (KIMPSONS)" at HK$2.5 million at Sotheby's first "CONTEMPORARY CURATED: ASIA" art auction guest-curated by Jay Chow – One of the most influential figures in Asia.