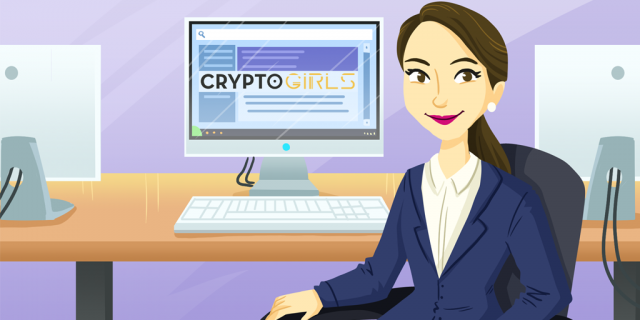 Hi there, Irina, can you please introduce yourself to the community and let us know more about you?
Hello Tronics! I'm Irina Iftimie, a senior database programmer from Romania with 6+ years in developing financial software products for bank system in Romania.
Besides daily work, I'm the co-founder of AP.3, a branding and development studio for startups, based in Bucharest, Romania.
I have been involved in several DPoS crypto projects as developer, investor and delegate for 2 years until present day.
This year I founded CryptoGirls, a community driven team that want to grow the crypto community in Romania and teach people all about crypto and blockchain technologies.
Can you let the audience know what's CryptoGirls? Are most of your members female?
CryptoGirls is an idea I wanted to implement about 2 years ago to bring more women in crypto world. Of course, I was at the beginning, lacking some knowledge that eventually I have received from people interested to join me. Thus, I decided to read more about blockchain and crypto, to continuously learn and bring my contribution in different projects, actively participate in blockchain-themed conferences. Eventually I teamed up with my friend and started different crypto projects. We believed that it would be nice to give back to the community all the knowledge that others have taught us. This is how CryptoGirls was born.
Now, we are a team of developers and business strategists located in Bucharest, Romania.
The core team is 100% women: Diana, Alina and myself. We are girls from different areas of expertise, having developed products and services for banking systems, health, e-commerce, startups and mobile applications. Furthermore, we have experience in building and growing communities, having founded JSgirls, a JavaScript community for developer girls in Romania 3 years ago. Of course, we have years experience as developers, delegates and investors in several crypto projects.
We also have 2 partners: Adrian, with experience as a crypto investor, and Liviu our events partner, helping us with advices and organization of events and meetups.
Our mission is to support growth of the crypto community by organizing events and expand our contribution in crypto, based on our skills and experience.
Since you are in Romania, can you let us know how are Romanian's view towards cryptocurrency and blockchain technology in general?
Romanians are very open towards blockchain and crypto. We have several local investors in cryptocurrencies and in Bucharest there are a lot of blockchain events happening. For example, in 2017, Diana co-organized a JavaScript based hackathon having Blockchain as theme (https://bucharest.jshacks.io/).
Furthermore, we have several established companies building and delivering blockchain applications, and recently we had the 1st edition of d10e Conference in Bucharest. We can conclude that the crypto and blockchain technologies are well-known among the professionals in Romania, but of course there is space for bringing these technologies closer to as many people as possible.
How is TRON's reputation in Romania? What do people think of it?
TRON is not so popular nor well known here in Romania. As far as we know, there are people who have heard about TRON, but they are not really involved in the project. This is what we are planning to do for TRON community: we want to bring more Romanians to be part of TRON ecosystem as there are a lot of potential investors and passionate developers here!
Our first effort in bringing the community closer to TRON in Romania was by organizing the first TRON meetup in Bucharest. There were of course several people that have heard about TRON and were interested, and some who did not. This is why we organized a TRX Bounty for all our attendees so we can raise their curiosity for TRON project.
We had lots of very interesting questions during our presentation and in the networking session afterwards, which provided us the proof that people are furthermore very interested in TRON and cryptocurrencies.
Since most of your community members are developers, you probably have some dApps planned to run on TRON network. Can you give us some idea of what we can expect in the near future?
We have that planned in our roadmap and we have some ideas in mind, at this moment it is too early to say anything about dApps. We are still in the brainstorming stage in regards to dApps, mostly because we want to know the needs of the community to build products that can help it. We will definitely keep you updated!
What else can CryptoGirls offer to improve the ecosystem of TRON?
We, as programmers, are planning to develop a series of useful tools for the community in regards to voting and pools sharing percentages. As an example, we want to create a rewards calculator so every voter can see what rewards can expect by voting a SR or another. We also want to develop an aggregator of all crypto and blockchain events happening in Romania as there is none at the moment.
What incentive does the community have? We can see from the details that you are donating 70% of rewards back to voters, how will you do that?
In our case the incentive is pretty high: 70% of our TRX rewards. We will do daily payments through an automatic script which will run on a different server set up only for payments. We think daily payments is the right choice in order to prevent vote hopping and be fair with our voters.
We know you have your first TRON meetup in Romania, can you let us know what has been discussed that day and how it went?
It went great, there were people interested in TRON, blockchain and cryptocurrencies in general. Our presentation was based on TRON network and how people can invest in a cryptocurrency, more specifically, TRX.
We started with explaining concepts such as PoW, PoS, DPoS and the differences between them. We then continued with presenting the TRON story and numbers, the TronPG, the TRON Explorer and some interesting facts about TRON and TRX migration. Our main focus was to present how you can make a wallet, trade TRX and vote for Super Representatives, explaining what role have the SRs in maintaining the network.
We ended our presentation by offering a TRX bounty for all the people present at the meetup. At the networking, pizza and beer session afterwards, we discussed ideas of developing some interesting dApps within the community.
In general, why do you think Tronics should support CryptoGirls?
We are a young, curious and dynamic team and our mission is to bring crypto and blockchain closer to the people in Eastern Europe. As the world is changing rapidly, we need to invest more and more in education and in developing new, helpful and exciting projects for the community. We are here to make this happen!
Is there anything you want to share with Tronics before we end the interview?
We are glad to be part of this and that we can bring our contribution to Tron project and community! If you like what we do be sure to follow us on our social media accounts and don't forget to vote CryptoGirls!
And last but not least, thank you Tron Live for your awesome initiative that comes in helping Tronics to know their Super Representatives! We are glad that we share the same enthusiasm in promoting and developing the TRON community!