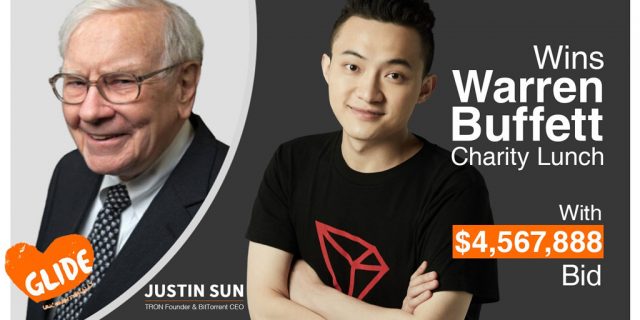 (SAN FRANCISCO,  JUNE 3) –  Justin Sun, the founder of blockchain platform TRON and CEO of BitTorrent, is this year's winner of the annual eBay charity auction to have lunch with Warren Buffett.
After Justin announced he won the record-setting 20th-anniversary charity lunch with Warren Buffet on eBay, there were mixed reactions from the crypto community. Some of the negative comments from community members are "the rich get richer" and "it's useless because Warren Buffett hates crypto".
Sun bid a record-setting $4,567,888 to win the auction. One of the misconceptions from some people is the money goes directly to Warren Buffett which is not the case. The proceeds will go to San Francisco-based non-profit GLIDE Foundation which Buffett, the billionaire investor and CEO of Berkshire Hathaway, has held the auction for 20 years to support the foundation's efforts to help the homeless and poor in San Francisco.
"The Buffett auction is just as worthy a cause. One hundred percent of the proceeds will support the GLIDE Foundation's 50-year quest to help the homeless and needy in San Francisco. It's home to BitTorrent and where we held our first developer and community conference, nITROn." noted Justin.
Justin also said he was "a long-term believer (and certainly a big fan) of Buffett and his long-term value investing strategy," adding that "the long-term value investment strategy and cryptocurrency, in my eyes, are one in the same."
The crypto community is certainly aware that Buffett is an anti-Bitcoin person because he had publicly stated that he sees no "unique value" in Bitcoin. Therefore, some of the community members think that there isn't much hope that this lunch with Buffet will change anything. However, many do not realize that Buffett does not oppose blockchain, which is the underlying technology behind all cryptocurrency. In fact, Buffet's Berkshire subsidiary BNSF railroad and fine jewelry subsidiary Richline Group are already exploring blockchain to streamline their supply chains. Therefore, Justin has high hopes to explain the value of blockchain and cryptocurrency to Buffett over lunch.
"I'm delighted with the fact that Justin has won the lunch and am looking forward to meeting him and his friends," Buffett said in a statement provided by his assistant. "We are going to have a good time and Glide will use his contribution to help many thousands of people."
Furthermore, the record-breaking charity auction was reported by many large media since Justin's announcement and this will cause many financial institutions and ordinary users to be more aware of blockchain and potentially learning its benefits. This push for crypto and blockchain adoption will truly benefit the blockchain community as a whole.