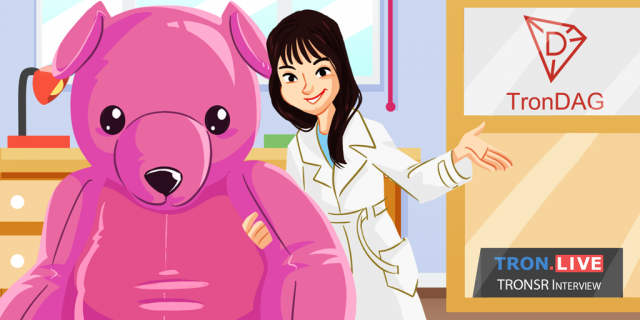 Hello Lorraine, can you give us a brief introduction of yourself and let the audience know what you do in Digital Assets Group (DAG)?
Hello! All tron token holders, Tron community supporters, all tronics, hello! I'm Lorraine, from TronDAG super representative candidate. I am the CMO of DAG company, mainly responsible for the group's marketing, business and some groups' cooperation. TronDAG is an independent department in DAG which dedicated to run for Tron Super Representative and subsequent establishment for the Tron blockchain ecosystem service. My role in TronDAG is like the campaign manager, responsible for this campaign.
Can you tell us more about DAG? What does your company do?
DAG (Digital Assets Group), established in 2017, is a group company registered in BVI (British Virgin Islands), specializing in blockchain digital asset business. It has a number of subsidiaries and foundations. It owns digital assets. Btcfoo exchange, world-class Etherum Fog, and mine pool.
Two of DAG popular digital assets are BTCFOO and EthereumFog, firstly, can you briefly introduce us to BTCFOO?
BTCFOO.COM is an exchange licensed to operate legally which registered in the Seychelles Republic, it provids liquidity to high-quality digital assets around the world. The exchange has strong operational and technical teams and provide 7*24 hours of uninterrupted service for users. We Adopted world-leading technology architecture and security configuration to ensure users' trading experience and assets security.
How about EthereumFog. It's a world decentralized fog computing. What does that mean?
Ethereumfog(ETF) is a public blockchain which is the first fork based on Etherum, its inherits all functions and excellent features from Ethereum, ETF uses fog computing as the technical development direction in order to commit enhancing the practicality of the public chain and strengthening the ability of application implementation.Compared to Ethereum network, EthereumFog adds distributed storage and distributed computing capabilities. It has advantages of shortening the main chain delay, expanding the general computing resources, improve the scalability of blockchain and supporting high frequency massive applications;Fog storage and computing means higher reliability, EthereumFog platform will continuously grow and improve in the future, distribute node to be more decentralized and fog atomized, make storage and computing power more generalized, make the network more robust and efficient, and finally achieve the development goal of EthereumFog -a World-Class Fog Computing Platform.
Let's get to the topic of TRON SR, why makes DAG make the decision to join TRON SR election?
The election of super representative has an unusual mean to the governance of TRON and the relationship between the TRON community and the foundation. In my opinion that democratic governance should be supported by the foundation and the community as a common goal for the sustainable development of TRON ecology. DAG believes that the value of serving the ecology of the bottom public blockchain around the public blockchain can establish a new road for the blockchain infrastructure. So DAG group had already announced formally in early May to joined in the running for the Tron Super Representative.At the same time, we decided to choose TRON as the first ecological strategic partner to jointly build TRON's more complete ecology and fully support its ecological growth and development.
Do you have any plans to integrate DAG existing digital assets into TRON network?
Of course we did, actually our team has already planned it.After the Tron's smart contract have been fully verified and mature,We will consider to transfer digital assets to Tron blockchain. Because our team has been continuously evaluating the code maturity of Tron on Github.
How else do you think DAG can help with to accelerate the growth of TRON?
Our BTCFOO exchange has decided to support the TRX ERC20 replacement permanent,In addition,our DAppstore named TANGGUOBAO will shelves excellent DApps on Tron blockchain.At the meantime, we also provide 1 million pre-installed mobile phone slots for Tron's wallets and excellent dapps on the Tron blockchain for free in order to help many entrepreneurs who working on the Tron project to promote their DAPP.
We also know that you've hosted a TRON SR event on 29 of May, can you tell us more about the event? Like what's the purpose and what has been shared on that day?
Yes, we had a Meetup on that day that attracted a lot of blockchain media and blockchain enthusiasts, because at that time there was only two days away from the online testing of Tron major network, and we hope more people to pay attention to Tron, so we hold a Meetup. We shared our TronDAG's annual plan for building Tron's ecosystem, hardware expansion plan. We also introduced the security configuration we made for Tron super representative together with KNOWNSEC.
In general, let us know why Tronics should support DAG? Will you be offering any incentive to the community?
Because we are professional, we can do more for Tron's ecologyl construction than others. We provide 1 million pre-installed mobile phone slots for Tron's wallets and excellent dapps, and our currency exchange support the TRX ERC20 replacement permanent, as well as our consideration of transferring digital assets to Tron blockchain, are proof of our sincerity.We used to be a blockchain project sponsor, so we known very well about as a blockchain project from hatching to go online to operating process of the key points and difficulties,we also know the importance of rich DAPPs ecology to the underlying public blockchain. So we hope that on this heavy responsibilities road, DAG wants to be a solemn representative of the TRON, energize Tron's community, energize Tron's reform, energize Tron to change the world.
Is there anything you want to tell the community before we end this interview session?
DAG understand very well that the contribution to the Tron community as a Super representative must be fluid and sustainable. We always wanted to change for the Tron community from scratch with a very sincere attitude,instead of running for this campaign as a businessman. Our campaign vision is to help the TRON promote for democratic reforms of governance on blockchain, carry out democratic autonomy of Tron community. As a window to bear the TRON ecology and the TRON community, the TRON network will be supported and validated by super representative, they're solemn representatives of the TRON community. Democratic governance is not the Tron foundation's "sovereign governance system". Instead, it is based on the weakening of the foundation's sovereignty, the rudiment of a new and growing system.Thus, in order to prevent the Tragedy of the Commons, this democratic vote is crucial to every Tronics. We hope that Tronics who really care about Tron will vote to TronDAG.