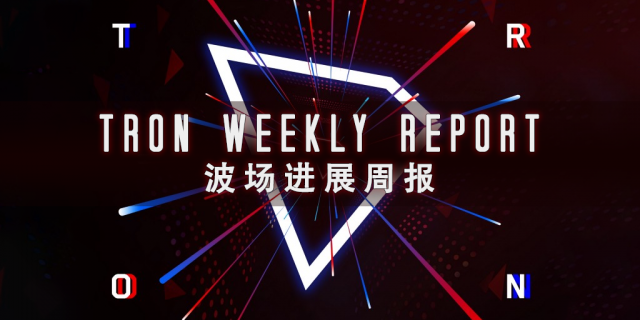 Last week, TRON project went smoothly. We provided the progress of this week to all the supporters, believers and followers.
Technical Development
Work Completed:
1. [Structure] Started Mainnet deployment; improved deployment documents.
2. [Consensus] Supplemented tests; improved relevant documents.
3. [Wallet] Added a demo on how to select the keystore file.
Work In Progress:
1. [Structure] Develop virtual machine.
2. [Wallet] Support exchange sync-up; create documents on the technicalities of exchange sync-up.
Community Activities
1. On June 25th, TRON team held a livestreaming event introducing the official launch of TRON Independence Day and public blockchain mainnet. TRON has initiated its mainnet at 10 am June 25th 2018, and this initiation was completed by TRON Independent Group (TIG). TIG is a community consensus-based group, consisting of 27 anonymous, volunteering Genesis Representatives (GR). During the transitioning period when the GR are being replaced by other SR, TIG will be in charge until this process is completed;
2. On June 25th, in order to celebrate TRON mainnet launch and Independence Day, a number of TRON super representative candidates came to the scene to give speeches, including Cryptodiva, Bixin, OCN, TronOne, DAG, Cobo, Bitcoinworld, Game, Lianjinshu, GSC, HyperPay, Gifto, Bitcoin God, D2F and Tron Galaxy;
3. On June 25th, in the global livestreaming event lasting 12 hours, the total number of viewers of TRON community reached 1.67 million. Many TRON community supporters participated in this event to celebrate this historic moment;
4. On June 25th, at the same time as the livestreaming, the official online store launched a limited-time promotion of 9.9 yuan for all products, with the first 10 buyers getting free TRON Independence Day medals. Over 3,400 products are sold in total;
5. On June 25th, during the livestreaming on TRON Independence Day, Justin Sun, the founder stated: Currently, TRON team is fully developing and updating the TVM (TRON virtual machine), which is expected to be launched on test.tronscan.net on July 30th. The new version will be improved in terms of ease of use and security, aiming to fully support developers in developing smart contracts efficiently and securely. The final virtual machine middle layer realized by TRON will be compatible with EVM and EOS virtual machines in sequence, attracting more developers to the TRON network and finally building a richer TRON ecosystem;
6. On June 27th, the first TRON super representative appeared —  CryptoDiva became the first community node which generated blocks. Global ecological network is about to enter the constitutional period. CryptoDiva is the world's leading blockchain capital group, which is based on the CryptoDiva Foundation and provides financial services for the blockchain capital market. Members of the team are technical and business experts covering various areas including capital management, quantitative transactions, financial information, and the user community, committed to creating an ecosystem combining traditional finance and blockchain technology. As the co-founder of CryptoDiva, ALi is the lecturer and trainer of New Oriental Group, speech trainer of Cheung Kong Graduate School of Business, the founder of koolearn, outstanding graduate of Peking University English major, and the president of Peking University English Association. Besides, he also served as a guest debater in such hot shows as "qipashuo" and "Super Speaker", the special commentator in CCTV International Channel, and the speaker of "China economic life survey";
7. On June 28th, in order to celebrate TRON mainnet launch, TRON and Binance jointly held a trading contest sending millions of TRX to celebrate TRON's new journey. From June 29, 2018 8:00 am to July 6, 2018 8:00 am (GMT+8), users who participates in the TRX transaction on Binance will be ranked based on the transaction volume (buy + sell, excluding self-selling). Different rewards will be given out according to TRX's trading rankings.
Team and Partners
1.On June 23rd, MERCATOX announced that it would support the TRON blockchain upgrade and token migration. As a digital and crypto-currencies exchange, MERCATOX provides users with a multi-currency e-wallet with convenient service and instant transfers. The platform also provides excellent payment service with variety of payment methods and allows exchange of any cryptocurrency;
2. On June 23rd, Tokenomy announced that it would support the TRON blockchain upgrade and token migration. Tokenomy is a value creation and distribution network. The platform enables an easy transformation of any valuable offering into blockchain tokens, allowing companies and organizations to distribute and exchange their tokens. Tokenomy also provides a marketplace for valuable tokens to be listed and traded on the crypto-only exchange;
3. On June 23rd, HitBTC announced that it would support the TRON blockchain upgrade and token migration. HitBTC is the world's most advanced cryptocurrency exchange. Since 2013, HitBTC has been providing markets for Bitcoin, Ethereum, Litecoin, Dogecoin, Monero, USDT, and more than 300 cryptocurrencies in total. Created by outstanding technical minds, high-level finance professionals and experienced traders, HitBTC is delivering the most reliable, fast and powerful platform solution on the market;
4. On June 23rd, Rfinex announced that it would support the TRON blockchain upgrade and token migration. Rfinex is committed to trading digital assets in the simplest way, with such main features as: quick deposit and withdrawal and convenient transaction engine; multi-level risk identification control to protect transaction security; provide professional K-line diagram from tradingview; support multiple devices including computers, mobile phones and tablet pcs without installation;
5. On June 24th, Rfinex announced that it would support the TRON blockchain upgrade and token migration. BitoPro was developed by the bito team, which launched BitoEX in 2014 to provide digital currency solutions such as personal wallet/enterprise application/financial audit. The team is committed to promoting Taiwan's digital currency and is striving to provide customers with comprehensive quality services and brand promises. The team's expectation is to make it easier for digital currency transactions, easier to use, and more comprehensive. In 2017, in response to customer and market development trends, the team began to plan and develop a cryptocurrency trading platform – BitoPro, hoping to meet customers' demands for faster and more economical transactions;
6. On June 24th, IDAX announced that it would support the TRON blockchain upgrade and token migration. Created by GBC (Global Blockchain Research Center), IDAX (www.idax.mn) is the Mongolian National Team Exchange, which already obtains the authorization of the Mongolian National Assembly Parliament and the cryptocurrency exchange license issued by central bank, thus becoming the first licensed exchange in Mongolia. Soon IDAX will cooperate with the Central Bank of Mongolia to issue cryptocurrency with fiat rivets. The exchange currently ranks 20th in the world;
7. On June 24th, Stocks.exchange announced that it would support the TRON blockchain upgrade and token migration. Stocks.exchange allows users to trade assets of your company for cryptocurrency. The platform facilitates the circulation of crypto currencies through crypto-based instruments, and determination of their market prices. The platform maintains a high level of professionalism a security for your personal data;
8. On June 25th, TRON officially announced the information of TRON Korea as the super representative candidate. TRON Korea has formed a multinational communication team. Each TRON Korea employee will directly participate in the TRON community established in countries in Northeast Asia. In addition, the 2018 budget plan of the team includes economic support for the development of the TRON Foundation and the TRON blockchain;
9. On June 26th, Gate.io and Upbit announced that they had completed TRON mainnet upgrade and opened TRX deposits and withdrawals;
10. On June 26th, TRON officially announced the information of Coinnest as the super representative candidate. As the first Korea Exchange to list TRON, Coinnest will continue to support TRON and TRON's activities in Korea. Coinnest will also build Korean domestic TRON incubator together with partner company Incublock to support TRON-based DAPP development;
11. On June 27th, Bitflip announced that it would support the TRON blockchain upgrade and token migration. As one global famous cryptocurrency exchange platform, BitFlip now provides exchange service of multiple currencies and trading pairs. It supports the purchase and sale of nearly 60 cryptocurrencies such as Bitcoin and Litecoin. In addition, the "Affiliate Program" initiated by Bitflip also demonstrates the determination to promote development of the industry;
12. On June 27th, Sistemkoin announced that it would support the TRON blockchain upgrade and token migration. Sistemkoin aims to make trading simple and secure. According to official data, 98% of the coins keeping in cold wallets with the website protected with firewall. The team aims to ensure that users can deposit and withdraw coins quickly and easily. In addition, it also features 24/7 live chat and phone support and instant access, so that withdrawals and deposits will never take more than 15 minutes to confirm;
13. On June 27th, TRON officially announced the information of TronWatch as the super representative candidate. Consisting of young developers from all over the world, TronWatch has more than 10 years of experience in web application development;
14. On June 28th, TRON officially announced the information of TRON ITALIAN POOL as the super representative candidate. Made4web SAS has over 14 years of experience working extensively with public institutions including universities, medical organizations and government.
Market Transactions
1. On June 26th, famous leveraged trading platform BitMEX announces that due to popular demand, BitMEX will be listing the BitMEX TRON / Bitcoin 28 September 2018 futures contract, TRXU18, on or before 26 June 2018 08:30 (GMT+8). BitMEX is a next generation crypto-coin trading platform, which supports highly leveraged trading via perpetual and fixed-date contracts. It is the most advanced Bitcoin derivatives exchange and provides up to 100 times leverage for Bitcoin products. BitMEX has very stringent requirements for on-line currencies. Therefore, the announcement of listing TRX is a confirmation of TRON mainnet launch at this moment.