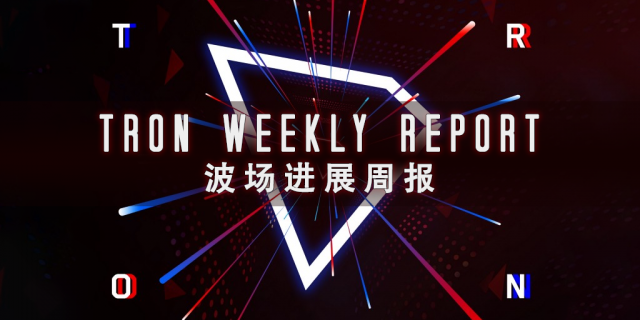 The TRON project continues to run smoothly. Here is this week's progress for all of our followers, supporters and believers.
Technical Development
Work Completed:
1. [Structure] TVM's ecosystem: Transfer security assurance within contracts.
2. [Consensus] Resource delegation.
3. [Network] Optimized node scoring mechanism:Added node transmission flow as scoring criteria.
Work in Progress:
1. [Structure] TVM's ecosystem: Optimize the CPU value of each instruction to improve performance.
2. [Network] TCP connection attack: Prevent occupancy of connections by malicious nodes.
3. [Wallet] Design account system.
Community Activities
1. On August 13, to encourage user engagement on social media platforms, TRON held an emoji contest titled "Tell A Story about TRON with Emojis". We invited followers across the world to design emojis related to TRON, post them on Twitter/Facebook and @ 10 friends and TRON Foundation. The most liked and shared emojis will be posted on our official Twitter/Facebook account on August 21. We will airdrop TRX to designers of the top 5 works as a reward and share the outstanding emojis in TRON official main group with our global users. We will also post some outstanding works on TRON official website. Users can repost and @ 10 friends (5 for Twitter) to participate. We will select 10 lucky winners at random and reward each of them with 200 TRX.
2. On August 15, Dave, a TRON follower from Britain, tweeted that he is going through a rough time. As soon as we learned about his condition, we sent him our best regards and a TRON mascot. We wish Dave an early recovery and good health. Hope the team he supports will win the Super Representative Election.
3. On August 16, TRON held a event named write your honeyed words on TRON blockchain and send to your lover, you can generate a TRON wallet, write your words and sent to his/her TRX address, he/she will get your message.
4. On August 17, the Chinese Valentine's day, TRON merchandise at wechat shop are 30% off.
5. On August 17, Dutch version of TRON weekly report will be added.
6. On August 17, TRON announced rewards to Github contributors on July. GitHub is a development platform inspired by the way you work. From open source to business, you can host and review code, manage projects, and build software alongside 30 million developers.
Team and Partners
1. On August 11, TRON launched a new feature—"Click to View Foundation Freeze Addresses" on TRON Block Explorer. Tronscan provides a new way for Super Representatives (SR) to publish their information in the regions where the voters are located. SRs can also use the template to create a static page. After creation, the page will be shown on Tronscan, and the link of the page can be put in the introduction part next to the SR's name. Besides, SRs can manage their own content by editing files in the Github repository.
2. On August 11, TRON announced to complete the acquisition of domain name "BlockChain.org". Highly relevant to blockchain, the domain name will boost TRON's popularity among ordinary people, generate more traffic, and achieve wider recognition in the industry. Besides, it shows that TRON attaches great importance to domain names. As for plans for the domain name, Justin Sun, founder of TRON, intends to build it as an integrated one-stop data search platform to provide services including big-data analysis, project assessment and information searching for blockchain practitioners and users. Justin Sun also invites other businesses of the blockchain industry to join us and build the platform together so that BlockChain.org will promote development of the whole industry.
3. On August 12, TRON Alliance officially announced to run for TRON Super Representative. As an important part of the TRON ecosystem, TRON Alliance originates from the TRON community and grows in it, with an aim to assist TRON in applying TRON blockchain solutions in enterprise services. A few enterprises have joined and begun their exploration. Looking ahead, we hope TRON Alliance, as a TRON Super Representative, will make greater contributions to the TRON ecosystem along with the other 26 nodes.
4. On August 12, BitKop announced its completion of TRON MainNet migration on its official website. It has also resumed deposits and withdrawals of TRX on TRON MainNet.
5. On August 13, TRON community KOL BitDog announced to run for TRON Super Representative and published its election manifesto on TRON SR forum. So far there are about 100 Super Representative candidates elected with over 5 billion TRX.
6. On August 13, the number of Facebook followers of Justin Sun, founder of TRON, reached 300,000. It not only reveals TRON's accumulated popularity on social media platforms, but also shows that the number of TRON's global followers is rising. Justin Sun, one of the most outstanding Chinese entrepreneurs born in the 90s, founded blockchain project TRON in July, 2017. Now, TRON is the largest decentralized DApp operating system in the world, and the TRON Protocol is one of the largest blockchain-based DApp operating protocols.
7. On August 14, Bitcoin Superstore, a US online retailer using crypocurrency, officially announced to add TRX to its payment options, which previously include BTC, BCH, DASH, ETH and LTC. The company allows users to pay with cryptocurrency at over 200,000 stores including Amazon and Starbucks. Users only need to log in Bitcoin Superstore, paste the link of the chosen product, and pay with a cryptocurrency. Users may place an order at any online stores, such as Amazon, Google Express and Walmart, and Bitcoin Superstore will take the order, make a purchase, and deliver the merchandise.
8. On August 14, DAPPHOUSE officially announced to run for TRON Super Representative. Decentralized apps (DApps) have been an important part in the TRON ecosystem. Dedicated to the exploration and research of DApps, DAPPHOUSE provides good solutions and showcases for DApps operation. We hope DAPPHOUSE will win the election, and together we will build a prosperous and healthy TRON ecosystem.
9. On August 14, EtherPoker officially announced to run for TRON Super Representative and published its election manifesto on TRON SR forum. EtherPoker is a data prediction blockchain game channel, currently developing a predictive game channel for TRON to provide services for users of the TRON community.
10. On August 15, TRXMarket officially announced to run for TRON Super Representative. TRXMarket is a decentralized exchange based on the TRON network, dedicated to supporting decentralized transactions in the TRON community.
11. On August 15, TheLastMe officially announced to run for TRON Super Representative. TheLastMe is hoping to leverage the blockchain technology to build an application scenario that can integrate games, and help cryptocurrency to generate landing services. The company helping to promote the rapid adoption of blockchain technology with recreational methods. TheLastMe has been paying attention to the development of TRON, and has already become an industry leader in many aspects. As far as application development goes, TheLastMe will be able to play a very important role in helping TRON with landing applications.
12. On August 15, Chen Qingjie, a top talent joined TRON to advance our progress in building the most competitive mainstream blockchain project in the world. Chen Qingjie studied in Nankai University as an undergraduate and went to Peking University for post-graduate education. Previously a senior algorithm engineer, Chen began to work as a blockchain engineer for TRON, mainly responsible for the design and development of smart contracts.
13. On August 16, BitTorrentNow officially announced to run for TRON Super Representative. BitTorrentNow is committed to building a more open, transparent and efficient network. This mission is well aligned with TRON's vision. We are all devoted to building a more open and decentralized Internet so as to revitalize the Internet. We believe that our cooperation with TRON will help build a brighter future for the Internet.
14. On August 16, Blockchain.org officially announced to run for TRON Super Representative. Blockchain.org strives to become the "Google" in the blockchain industry, providing users with one-stop services such as block queries, news browsing, and big data analytics.
15. On August 16, TRON reached strategic cooperation with Line, Forbes also made an exclusive interview with Justin Sun.
16. On August 17, Happy East Capital announced to run for TRON super representative, Started by Yang Linke, co-founder of BTCCHINA. Happy East Capital is dedicated to cultivating and investing in blockchain startups around the world.
Market Transactions
1. As of 10 am on August 12, BTC, TRX, and ETH ranked top 3 on Twitter mentions in the previous hour. ETC, EOS and ADA ranked among top 10.
2. As of 4 pm on August 13, according to CoinTrendz, cryptocurrency mentions on Twitter dropped in the previous hour. The ranking is as follows: BTC (1288), TRX (1150), ETH (591), XRP (461), LTC (449), NEO (389), BCH (377), XLM (345), ADA (343) and ETC (328).
3. On August 15, TRX was officially listed on BITBOX. Unlike other exchanges, ITBOX originated from LINE, the largest social media platform in Japan. BITBOX provides a reliable platform for the traders, protects its users from various changing threats, and guarantees asset security. Besides, BITBOX provides multilingual services for customers. If you have any questions about your TRX, BITBOX can provide real-time consultancies in your mother tongue.
4. On August 16, OKEx announced it would launch TRX/OKB at 16:00, August 17(HKT).