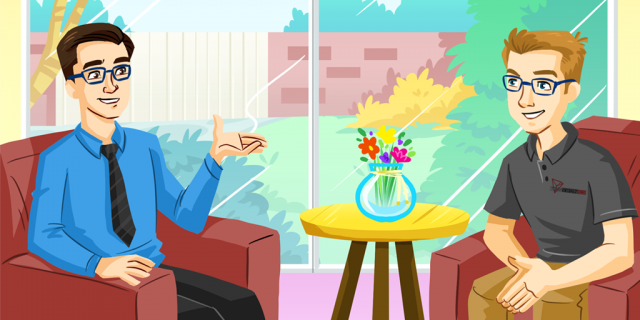 Hey Drew, nice to meet you. I'm Jason from TronLive. Can you give us a brief introduction of yourself and let us know what you do in Team Tronics?
I'm Drew Wise, 20 years old. I'm in my second year of college. I soon to graduate with my associate degree. I've been around TRON community for about 7 to 8 months and I really do enjoy it, it's a great community. I'm the co-founder and direct liaison officer in Team Tronics. And I said that the team works collectively together. It's a great team, working hard.
Ok! Can you let the audience know more about Team Tronics?
Yea! Team Tronics is a community running super representative candidate. Our main goal is to educate the vast crypto community on blockchain technology and how it relates to TRON protocol. We believed that this is the best way and a great way to allocate our block rewards back to the community, creating an interactive community.
So, there are a few community SR candidates, will you mind let us know what will your team do differently.
Ok. So our plans are a lot different. We are focusing entirely on education. So we think that educating the community will truly drive awareness and adoption because we will be teaching about how to develop dApps on the TRON protocol and also how the community can interact with the protocol, and truly use it in the use-case. So, we want to spread the knowledge of Tron and grow the community.
Well that's cool. How's the preparation work for TRON SR election so far?
Ok. So the community is working diligently like all day, every day like that.
Is there a lot of works to do?
Yea, while we have a team translator and I say about so far 15 translators on the team and we also have community manager in each community, so that people that don't speak English they can also be involved in the community. So this is how we will get everyone involved.
Wow, right. Keep up the good work guys.
Thank you. Appreciate it.
So, how will you allocate your TRON rewards?
Ok, so in the first month we have decided to give back everything to show appreciation, and show thanks to our Tronics for the support. It's been 3 or 4 months we have been doing this. So we're going to give back a 100% and from an airdrop on August 1st. And then after that, we hope to have the university open rolling for the first-semester enrollment, and then we also have interactive community plan. Our community inside plan is where the community can participate in creating articles, blogs, and vlogs etc and submit them and get them rolling in. And also we have a budget for social events like meet ups and stuff. So if the community participates, and join certain meet up, they will be rewarded for interactive with everyone.
Well, that's nice. How do your voters get back the TRX that they have voted for? Like, how long does the community need to get back their rewards?
Ok. So Tron has initially decided to lock or freeze you vote for the first 3 days. And after that, you will be able do whatever you like with your TRX, or vote for whatever you want. The longer you vote for Team Tronics, the more that you will get in the long term. So, say someone votes for a week and vote for someone else, they will get less than someone who votes for the whole month or the whole year, etc. But we will get TRX back to the community, we are not going to do another coin. But we also have our University that will be going live in a few months. It will be a good way to participate.
Alright. What will Team Tronics offer in a year if you are selected as SR?
Ok, in a year we will offer commmunity growth and we want to offer education to our Tronics and we want to provide a stable network for TRON and expansions with people having full nodes on connecting them to our witness nodes.
Nice! How else do you think Team Tronics can help to aid the growth of TRON?
Community Growth. An educated community will create a strong community. We think that we will aid the growth of TRON in adoption and awareness by educating the Tronics.
So in general, let us know why people should support Team Tronics?
We want the best for the tron community and we truly want to make a difference in helping tron succeed, we believe community involvement will be a key to success in driving adoption (Dapp Developers) & Awareness to users ( Community) we want to support the community by rewarding Tronics while participating in the Tronics university.
Alright! Is there anything you want to share with the community before we end?
We decided to have a community meetup on Independence day, June 25th in Germany. If you would like to participate, please join our community telegram.
Ok, Cool! Thank you for your time Drew. We wish you all the best in this TRON SR election!
Thank you, thank you appreciated it. Goodbye. Have a good day.