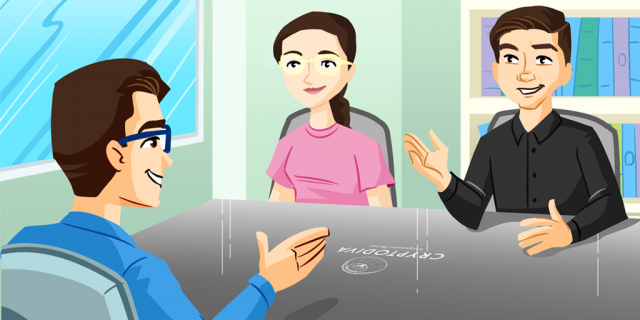 Hi Lina, nice to meet you. I'm Jason from TronLive. I will be doing this interview with you today. Let's begin. Can you give us a brief introduction of yourself and let us know what you do in CryptoDiva.
Hello Everyone. It's really an honor speaking to you guys. My name is Lina Armani, and I am the founder of CryptoDiva. I am also the Partner of Paretone Capital, an investing firm based in Silicon Valley. I am a certified financial planner and I have been working in finance for years and I have extensive business and trading experience. From 2017, I got very passionate about blockchain and committed myself to this revolutionary technology. I am one of the early investor of TRON and now I would like to do my best to make TRON the next big thing. So, thank you. Now, I give us a floor to our spokesperson, Ali.
Ali: Hi everyone, I'm Ali. I'm the spokesperson of CryptoDiva. Currently, I'm a teacher here in China. Also, I'm an internet celebrity, I have more than 4 million followers on my Chinese Weibo, which is the equivalent of Twitter here in China. I also have more than 700,000 followers on my Chinese Wechat public account. So, basically what I do here is that I helped students from to know the world. I'm also the author of some of the best selling books. This is one of my books, it is called "The hours in a year". It's in Chinese, English and Korean, you guys can find it on Amazon. I'm a big fan of Cryptocurrency and I'm a long time friends with the founder of TRON, Sun YuChen. We actually graduated from the same college, Peking University, one of the best here. And now, I am really honored to be part of the team in CryptoDiva because I also believed the combination of Finance and the cryptocurrencies. We hope that we can do our best to TRON, the fields of Finance and the fields of education. I'm hoping one day in the future I can get more people to know about TRON.
That's great. Let's talk about CryptoDiva. Please share with the community what CryptoDiva is all about.
CryptoDiva is a globally leading blockchain capital group. Based on the CryptoDiva foundation, the group provides financial services for the blockchain capital market. Made up of technical and business experts from multiple fields, such as capital management, quantitative trading, financial information and user community, CryptoDiva is committed to creating an ecosystem combining traditional finance and blockchain technologies.
Our members have participated in a number of major projects, such as the early-stage investment, quantitative product release, trading platform construction and pool fund of TRON.
I see! So, why does CryptoDiva decided to join as TRON SR candidate?
CryptoDiva believes in the future of TRON. We plan to use TRON protocol after projects like digital currency quantitative trading pool and ABS trading platform for physical assets are launched on Tron's public blockchain main net.
We know that CryptoDiva is planning to develop your own public chain called capital management chain. Will capital management chain have some sort of involvement with TRON network?

The purpose for CryptoDiva to develop our own public chain is to offer safe technologies and standard procedures for the investment and financing of encrypted currencies. Now we are working closely with the TRON tech team to seek out the possibilities to move our platform onto the TRON main net. We are considering the possible DAPPS on Tron and hopefully, we can have that in the future.
We noticed that you have organized livestream and meetup recently. Can you let us know what you covered and how did it went?

We had a very successful livestream and meetup in the end of May. There were more than 100 people joined our meetup and more than 10 thousand viewers watched our livestream online. We introduced Tron protocol and CryptoDiva to the audience and got them really excited about our future together. The really interesting thing was that one day after the meetup, the price of TRX went up by 8.5 %! We knew it's just a lucky coincidence but we were really happy about it.
Haha, yep, we all want to see the price of TRX to go up! 
Can you describe your community support plan?

Our community support plans are as follows:
A. Spare no efforts to promote TRX protocol within the community and launch over three blockchain financial projects based on the TRX protocol.
B. Cooperate with opinion leaders both at home and abroad to promote TRX protocol. Work together with authoritative official Weibo or WeChat accounts that own more than three million followers launching video courses to promote TRX.
C. Regularly upgrade and expand the configuration of nodes and take active part in the ballot of community activities.
D. Hold online and offline sessions to promote TRX protocol. As there are many industry leaders in the WeChat groups of CryptoDiva, we will consider holding closed recommendation sessions that are irregularly scheduled to invite more excellent enterprises to join in the TRX protocol, which can elevate the overall value of TRX thus benefit all TRX holders.
E. Release teaching materials on blockchain in partner with well-known publishers in China and add introductions of TRX protocol in the books.
F. Join hands with the Ministry of Commerce to organize blockchain trainings in which TRX protocol is promoted.
Thanks for the details, Ali! How can CryptoDiva help to aid the growth of TRON?
As our slogan goes " Be better together" , we would draw more attentions, more developers and more funding to the Tron protocols by working closely with industry leaders ,KOLs and other investors. We believe that the more people are using TRON, the faster Tron will grow.
That's nice! We are looking forward to it. Can you let the community know why Tronics should support CryptoDiva?
CryptoDiva would help Tron grow both in short term and in the long run. We are dedicated to elevate the overall value of TRX thus benefit all TRX holders. CryptoDiva would also come up with the incentive plan for all its dedicated supporters. We highly appreciate all the love from our supporters and we won't let you guys down!
That's Awesome Ali. Well, any last words to the community before we end?
Ya, just one last words. Let's all Be Better Together!