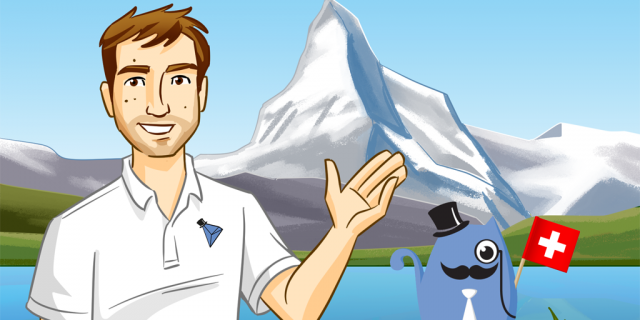 Hello there Philippe, can you give us a brief introduction of yourself and let us know your role in Don Giatti?
My name is Philippe and I'm a scientist who holds a Master's degree in geoinformatics and remote sensing from a leading Swiss university. I'm a passionate entrepreneur, love working in multicultural fields and bringing exciting ideas to the marketplace with the help of brilliant teams. I have a passion for adventure travelling and race driving.
I'm the founder of DON GIATTI and actively involved and responsible for all aspects of the liquor business including R&D initiatives, product development, sales, marketing and branding. My role as a SR of TRON is to provide operative and strategic steering regarding our two SR DON GIATTI campaigns, including implementing the rewards system of "TRX in a Bottle" and executing tasks in production and design. I also take an active role in leading the team and creating social media content.
Can you please share with the community what exactly is Don Giatti?
DON GIATTI is a young, innovative and independent beverage company rooted in Switzerland. In 2013 the Swiss market got hit with a premium party liqueur: DON GIATTI was born! In 2015 DON GIATTI hit the Asian and German markets thanks to its local success, a leveraged international network and great social media presence. Passion, Swissness and the spirit of the young, innovative founders as the DNA of the company proofs to be a winning formula for expansion. In mid 2017 DON GIATTI implemented the possibility to pay with crypto currencies in their online store.
It really is interesting for an independent beverage company to join TRON SR. Can you let us know why you decided to join this TRON SR election?
The team behind DON GIATTI are early investors in TRON Foundation and its cryptocurrency TRX. Over the course of the last nine months, we have closely monitored the developments of TRON and also got to know and love TRON's amazing community. We are confident that TRON will be a major player in the decentralization of the internet, and DON GIATTI intends to support TRON and the community in this endeavor. We think DON GIATTI is uniquely positioned as TRON SR thanks to its completely different business focus compared to other SR candidates: not only is DON GIATTI one of the only SRs with an actual physical product, but we will also be able to expand TRON's community into new realms of the entertainment industry. We are very eager to roll out our two campaigns "TRX in a Bottle" and "TRON GIATTI – Limited Edition" together with the TRON community and to launch the world's first crypto-branded liqueur!
Your TRX campaign slogan is "TRX in a Bottle!". Can you let the community know what this means?
If we are voted as one of the SRs for the TRON community all regular DON GIATTI bottles will support TRON. We will produce the world's first crypto-branded liqueur! Therefore, the TRON logo and a short description of TRON will be applied on every bottle, and a TRX reward program for the buyer will be implemented. The buyer will be able to redeem TRX out of every bottle of DON GIATTI, which totals 2.5% of the daily rewards. This campaign will be called "TRX in a Bottle".
There will be a second campaign named "TRON GIATTI Liqueur – Limited Edition". As SR we will produce a limited edition liqueur, which will serve as a tribute to the TRON Foundation and its amazing community, fusing the unique design of both brands. The new product shall be celebrated accordingly. The bottles can only be bought with crypto currencies. If they are bought with TRX, customers will get a 5% discount.
Will you be doing any more promotion to introduce Don Giatti in this TRON SR election?
Currently our team is raising the community's awareness for DON GIATTI as a TRON SR. Postings and news will be shared through our social media fees, reddit as well as on our webpage. In the next few days, we will let the community vote on a couple of possible logos for the "TRON GIATTI Liqueur – Limited Edition". Moreover, we have recently expanded our team by two more members: one who will primarily be responsible for the technical part of being a TRON SR, and the other one who will cover all the legal aspects of our business. Since the apparent lack of technical expertise from our side has been a point of criticism from the community, we will communicate the expansion of our team accordingly. Let us introduce our new team members shortly: Michael is an experienced engineer with 15+ years of IT on his back. He got into crypto four years ago and does not bother about moon or the current bear market. Michael intends to setup a statistical website in order to verify rev shares, because it's important users have different sources of verifying their share. In order to prove Don Giatti can distribute the rev shares on time with accuracy Michael suggested not to run the SR node from day one.
For the legal part we have Jason on board. He holds a master degree in law from a leading Swiss university. For the past few years he worked in the financial industry and developed a deep interest in cryptocurrencies. He pioneers the field of legal aspects with respect to cryptos and blockchain. He will support us with his know-how and sees a great future and potential for crypto and blockchain businesses in the new "crypto valley" Switzerland.
Can you briefly describe the incentive you have for the community if you are selected as TRON SR?
In the beginning, we have planned the steps below to promote TRON outside the already existing community.
50% of the rewards will be given back to the TRON community directly, irrespective of the market value per TRX! 45% out of 50% will go to voters directly as an incentive for voting. We intend to payout the voters daily. In addition, the reward distribution is relative to votes cast, i.e. the more votes you give us relative to other voters, the more TRX you'll receive.
Both campaigns "TRX in a Bottle" and "TRON GIATTI – Limited Edition" will contribute in spreading the word and promote the TRON brand beyond already existing communities.
We intend to initiate the TRON GIATTI Foundation which will act as a funding pool to kickstart Dapps ventures, community projects and event sponsorings.
Continuous and generous investments in our IT infrastructure (human capital and server environment) that will support decentralization and stabilize the TRON network.
Since the update on the reward model for TRON SRs, however, we are currently revising our incentive plan for the TRON community. We will generally stick to the ideas outlined above, but we will obviously have to adapt the size of the shares which we will be redistributing.
Can you elaborate more on TRON Giatti Foundation?
As a TRON SR we will initiate a TRON GIATTI Foundation, which acts as a funding pool to kickstart Dapps ventures, community projects and event sponsorings. The name of TRON will be spread via sponsoring IT-projects and coding events such as Swiss hackathons. The technical know how will be processed in close collaboration with our new team member Michael and spread by the whole DON GIATTI team. Through the foundation we will organize entrepreneurial meetups in the Swiss IT-scene such as workshops, act as a project-scout with focus on digitalization/blockchain implementation and build connections within and beyond the TRON community. This initiative will be funded by 2.5% out of the daily rewards.
How can Don Giatti help to aid the growth of TRON?
First of all, the two mentioned campaigns "TRX in a Bottle" and "TRON GIATTI – Limited Edition" will provide substantial support as a physical product in clubs, bars and grocery stores, leading to a broader awareness of cryptocurrency in general and TRON specifically.
Second, our responsibilities as a SR are not solely in providing witness, seed and future test (research/development/architectures/designs) nodes but also to build a robust network environment capable of running Dapps that will run 24/7/365. In the long run, TRON is building a decentralized internet platform and DON GIATTI is committed to building a solid CDN (content delivery network) platform that provides and supports the network with CPU, memory and storage for Trons Virtual Machine.
Why do you think Tronics should support Don Giatti?
A physical product meets the virtual blockchain! Building bridges between the cryptocurrency sector and the beverage market might seem odd at first sight, but compared to other SR candidates we think we do have a unique position not only because DON GIATTI has a physical product, but also because we have different sales channels to influence and convince people to invest in and support TRON!
Before we end this interview, is there any last words you would like to share with the community?
Philippe, Simon, Michael and Jason would be extremely honored to be voted as TRON SR by the community. We are eager to take this journey together with TRON foundation and all TRX holders and are looking forward to the 26th of June as the beginning of the collective voyage!