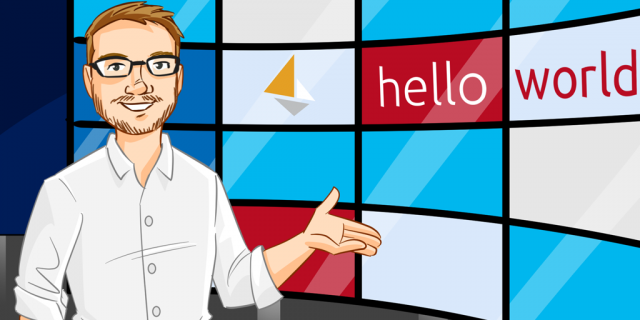 Hello Gleb, can you give us a brief introduction yourself and let us know more about you?
I grew up in Russia and came to the US to study computer science. After studying at University of Illinois at Urbana-Champaign and Stanford University, I worked for many years in Silicon Valley as a full-time engineer before transitioning to startup projects.
Currently, I manage software projects and help architect IT solutions that are both technically sound and stay within budget.
As a personally hobby, I also enjoy sailing – a few years ago, I became a certified skipper, took a sabbatical from work and crossed the Pacific Ocean on a small sailboat.
Can you let the community know more about your company Hello World?
Hello World is a software development company, with a vision to establish a different platform for creating innovative software products. We are building a portfolio of early stage startup companies that need engineering work – a website, MVP, mobile app, API, blockchain, or the first version of their online platform.
Since you are a software development company, can you briefly share with us some awesome software that you have developed?
DevOps & MVP / AWS / Continuous delivery: Associated Press, SABIS, WorkWave, Viking, Patch Some personal contributions: TripIt mobile app, AOL predictive modeling platform, mobile software @SAP, many others.
Why did Hello World decide to step up and join the TRON SR election?
This is very much in-line with our core expertise as software and IT developers. Being an SR would allow us offer our IT services to the TRON community, gain more knowledge of the platform and pass blockchain and dApp dev services to entrepreneurs and businesses.
Will you be developing dApps on TRON network?
Yes. We were looking for a blockchain platform that would be easy and inexpensive to use, and would have scalability and native support for standard programming languages for smart contracts. TRON platform promises all of the above.
What else can Hello World offer to accelerate the growth of TRON?
We help startups organize their software development. Early stage companies are often cash strapped. ICO is one way to raise money for their idea. TRON has an awesome potential to become the leading blockchain platform!
Can you let us know your community support plan?
We are looking for a new team member responsible for community relations and establishing a support plan. It's our goal to become more closely involved in both the platform development and building community relations. We would like to invite new team members to become part of our SR bid. You can contact us at tron@helloworld.services
Do you have any future activities specifically to promote this TRON SR event and let more user know about Hello World?
Yes, but the plan is not finalized until we find a dedicated person to do this.
In general, why do you think Tronics should support Hello World?
As a team, our "decentralized" locations, and diverse cultural and educational backgrounds should allow us provide around the clock technical support, and promote the platform in startup circles.
Is there anything else you want to share with the community?
We welcome feedback and are open to partnerships with other teams.
Please don't hesitate to contract us with your ideas, suggestions, and proposals at tron@helloworld.services