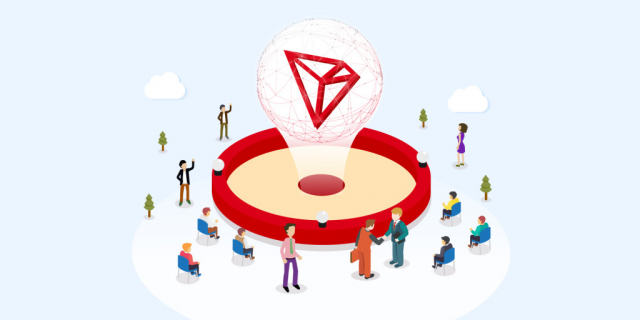 Many people have the misconception that when something promising is announced, the price of a coin should go up. This is often not the case in crypto world. There are a lot of factors that come into play when we are dealing with cryptocurrencies.
Understanding the market
Since TRON already completed their initial coin offering (ICO) and the market is relatively stable currently, it is unlikely for TRX to jump from $0.033 to $1 overnight. This is at least 30x increase and would required huge buying powers to affect the entire market to have such increase. Moreover, we also have to take account into holders (or whales – people with substantial large holdings) not to dump their holdings in the process. So, next time when there're rumors saying TRX will go up 30x or even 100x overnight, don't fall for it. Be patient. If you have faith in the project you believed in and your patience will pay off when the time comes.
What TRON already have
TRON already have millions of token holders across the globe. They have also acquired BitTorrent, which has over 1,000,000,000 users in 138 different countries, making TRON the largest decentralized ecosystem in the world. The recent launch of TRON Virtual Machine (TVM) beta will also start to attract more developers around the world into TRON ecosystem.
What TRON needs now
Let's explore what can we as Tronics do to help the growth of TRON.
In order to not let rumors or fear, uncertainty, doubt (FUD) affects you, you will need to have some knowledge of the cryptocurrency you are investing in. TRON has a strong team with great vision, they are also always working on making TRON better and this can be backed up by their weekly report. So, don't be worried about the dip in price if this happens. If you believed in the team, stay calm and carry on, some strong supporters may even increased their holdings by buying the dip.
Community with strong support
Some TRX holders are day-traders that may change their holdings everyday depending on which cryptocurrency they think will earn them most in a short period of time. Some of these people often don't care about the progress of TRON. Of course, different people have different investing strategies; however, in order for TRON to go further, we need the community to be more supportive. Tronics should support others who don't know much about TRON to understand the actual value of TRON. This will help convert day-traders into long-term loyal holders. With stronger support from the community, we will also be able to create higher support level for TRX.
One of the most important factors for the price of a coin to grow is mass adoption. This can be accomplished when more and more decentralized applications (dApps) are introduced on the TRON platform. Interesting applications will attract more users and investors to the platform thus making TRX worth more over time. TRON's TVM is compatible with Ethereum's EVM, and will be made compatible with other major virtual machines in the near future. This means developers will not need to learn new coding skills to program a TRON application. If you know some developers, bring them into the TRON network.
Even if you are not a developer, you can help TRON grow further by contributing great ideas and suggestions. It's no doubt that something new and ground-breaking will make things go viral. Have an idea on the next big game? Have a plan on an app that will make Tronics life easier? Have some feedback for the team that will make TRON better? If you have any ideas at all that you think will help with the growth of TRON, do voice out and someone or even some organization may realized your imagination into reality.
You may be wondering where can you find more information to learn about TRON, where to strengthen your support for TRON, or where to share your awesome ideas for TRON application. We have built TronLive Forum for this purpose. We are trying to build a true community that are not made up of people who just kept asking and criticizing about the price of TRX everyday, but a true community that will help the ecosystem of TRON.
If you really want to give us a hand, please sign up to show your support. Engage in the topics to share your feedback or ideas, and invite others that you think will be useful to the community. We need more supporters like you, yes you, the one who read through this entire article to find out how you can help with the growth of TRON. There are also TRON Super Representatives who signed up there if you have any questions with SR, voting, or anything else. We are sure that you will get your questions answered there.
Finally, TronLive sincerely invite you to come over and join TronLive Forum – A Forum for Tronics to have many meaningful discussion with the rest of the community.